With Salesforce Contact Center organisations can deliver proactive, personalised service across all channels, including phone, digital channels and bots. The combination of Amazon Connect (which powers the native Salesforce voice channel in addition to comprehensive AI/ML capabilities) and Salesforce is a unique solution in the market in terms of
Ability to offer personalised service over all channels
Intelligently route omnichannel interactions based on a full Customer 360 view
Ensure Agents are fully productive and equipped with AI-driven guidance
Customers can self-serve across voice and digital channels
Incorporate customer feedback and sentiment, both from survey and interaction analytics
Joulica overlays a modern cloud-native reporting and analytics solution across the Salesforce Contact Center platform. This article describes our solution for Salesforce Contact Center, beginning with our ability to provide real-time analytics across all customer interaction channels.
Customer Engagement across all Channels
Salesforce allows personalised services to be delivered across traditional channels such as voice, as well as messaging applications such as WhatsApp. The base requirement from a reporting and analytics standpoint is to provide consistent KPIs such as volume and service levels across all of these and allow supervisors and managers to access these KPIs in a single pane of glass. An example is shown below, which combines Email, Chat and Voice metrics.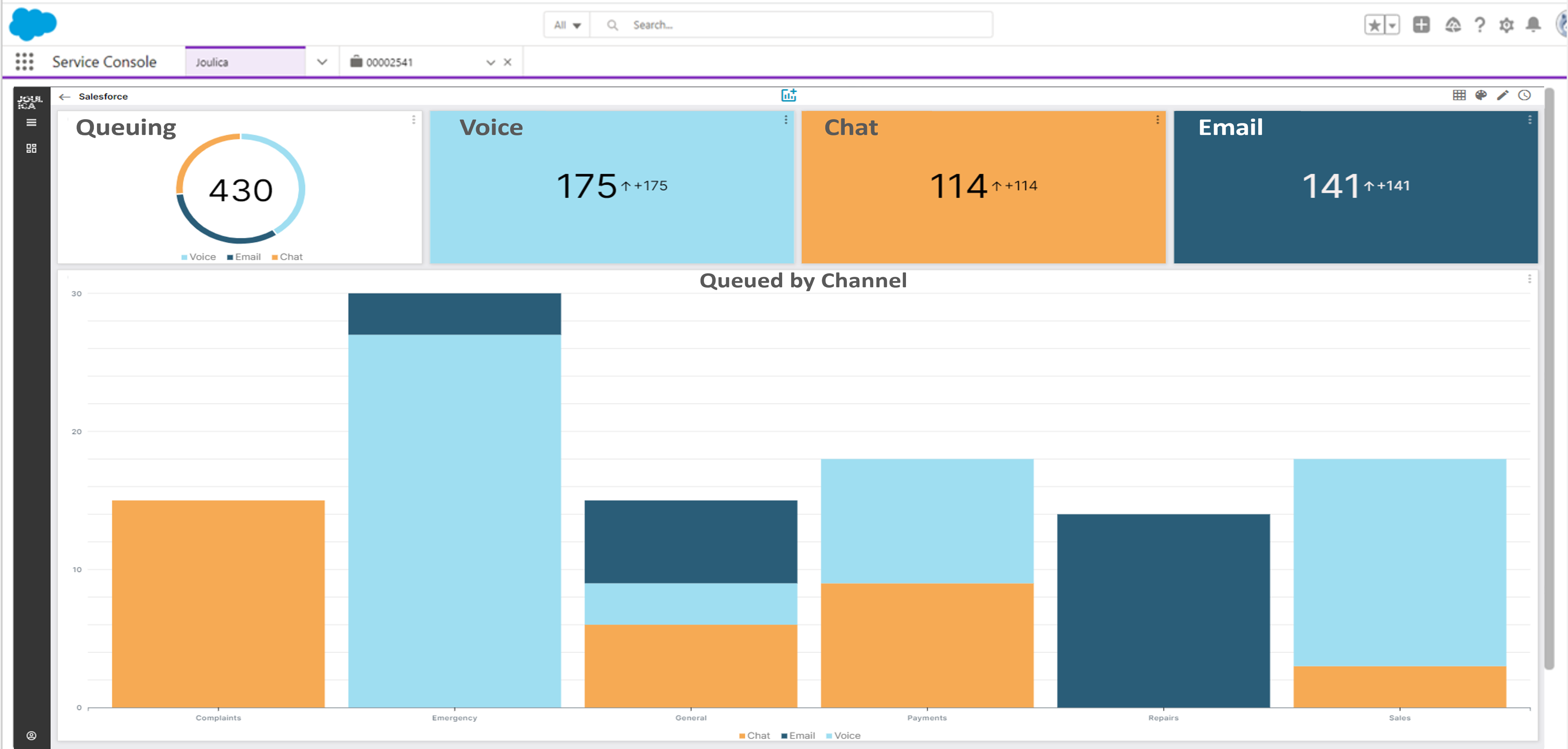 It can be seen that the KPIs are available within Salesforce, with Joulica allowing end users to customise the KPIs which are displayed and customise the layout.
Intelligent Routing
As well as a base support for all channels, Salesforce unifies the routing of all customer interactions, allowing routing decisions to be driven by customer and other contextual data. For Contact Center leaders, it is critical that real time visibility is provided into the queuing and routing process, across all channels and queues, as well as providing information for each agent, broken down by channel. This information is useful for both supervisors and agents (e.g., when these analytics are integrated into the agent workspace). A sample is shown below.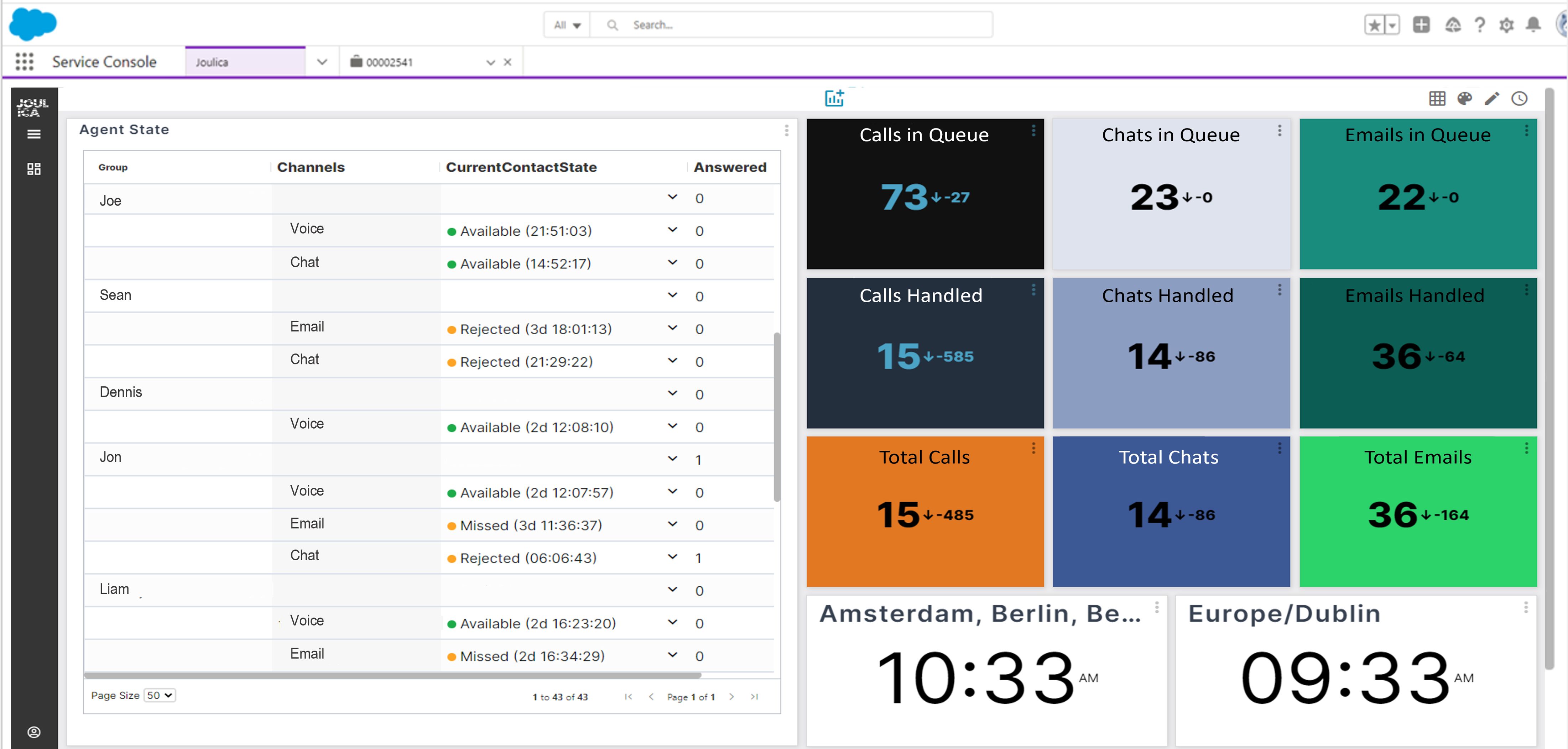 Agent Performance
As well as providing Agent KPIs broken down by channel (as shown in the example above), additional granularity can be provided. In the example below, speech analytics (powered by the Contact Lens capabilities of Amazon Connect) provides details on the key drivers of customer interactions (e.g., Upgrade requests or Bill Enquiries), and for each of these drivers, it provides a breakdown of each agent's performance. For example, an agent might need coaching when handling Cancellation related requests, as evidenced by longer than expected average handling times, lower customer satisfaction scores or even low customer sentiment. Joulica allows supervisors to drill down from performance reports into individual interactions, allowing the transcript to be viewed and in the case of voice calls, the recording to be accessed.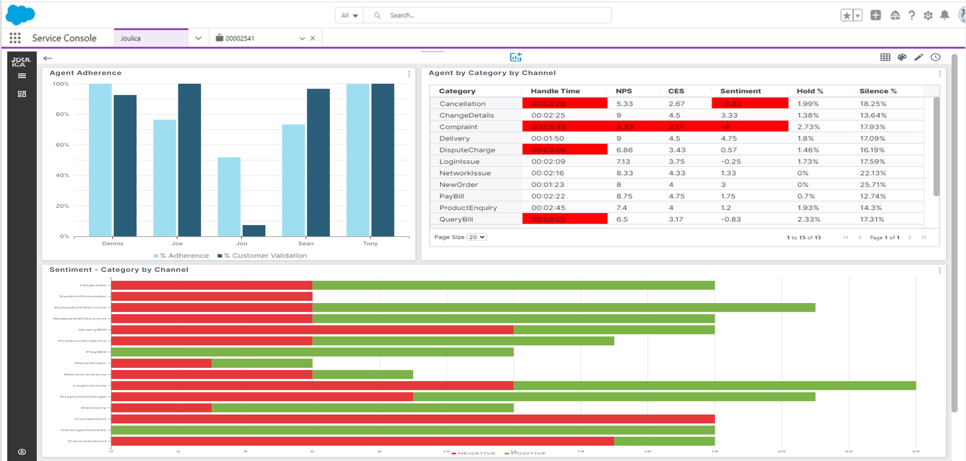 For Agent and team compliance use cases (e.g., agent compliance with scripts), analytics that provides insights into the agent and team adherence are also available.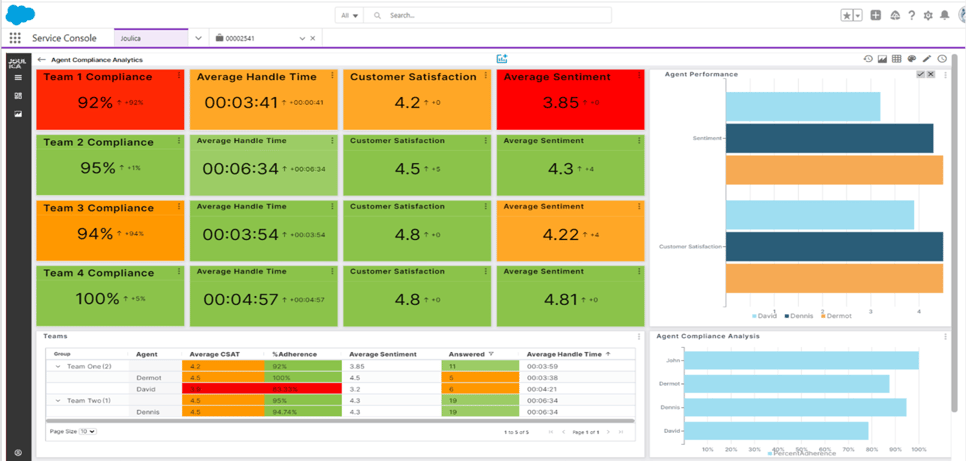 As well as driving higher levels of agent productivity, these analytics also provide the insights needed to prioritise improvements in IVR or virtual assistant applications, allowing greater levels of customer self-service.
Self Service
Salesforce Contact Center allows organizations to achieve high levels of automation across all channels, whilst always being able to bring in an agent when needed (with all context provided to the agent, ensuring a seamless customer experience). With Virtual Assistants, Bots and IVR applications, it is critical that organizations understand where customers are struggling or efficiency improvements can be made (e.g., low levels of automation or high levels of agent transfers or indeed poor customer feedback/sentiment).

To cover this area, analytics are required across the full customer journey, including channels, intents, and queues (as well as integrating data from other sources such as customer surveys). Joulica provides metrics for each of these individual areas, as well as providing analytics that correlates across all of them – an example is shown below.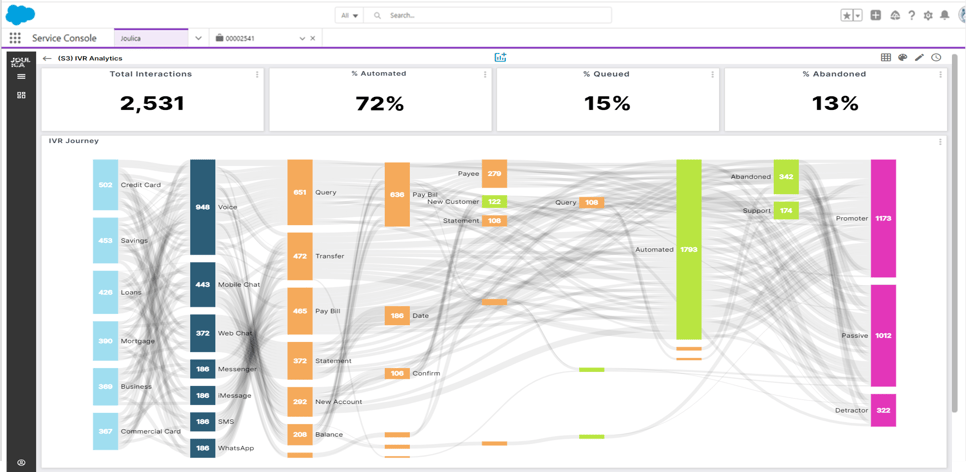 This example shows lines of business on the left, followed by channels and intents (multi-intent journeys are included). Customer Journeys are either automated (that is, the customer was able to fulfil their need without the need to interact with a contact center agent), handled by an agent (routed via a queue) or abandoned, with customer survey results available for each customer journey – in this case Net Promoter Score.
Customer Experience
This leads us to the last area we are going to highlight which relates to integrating customer feedback into the solution. The example below shows several ways Net Promoter Score (NPS) results can be broken down in real time – Agent, Queue and Channel. Customer Satisfaction or Customer Effort Scores are also possible, as well as other aggregations.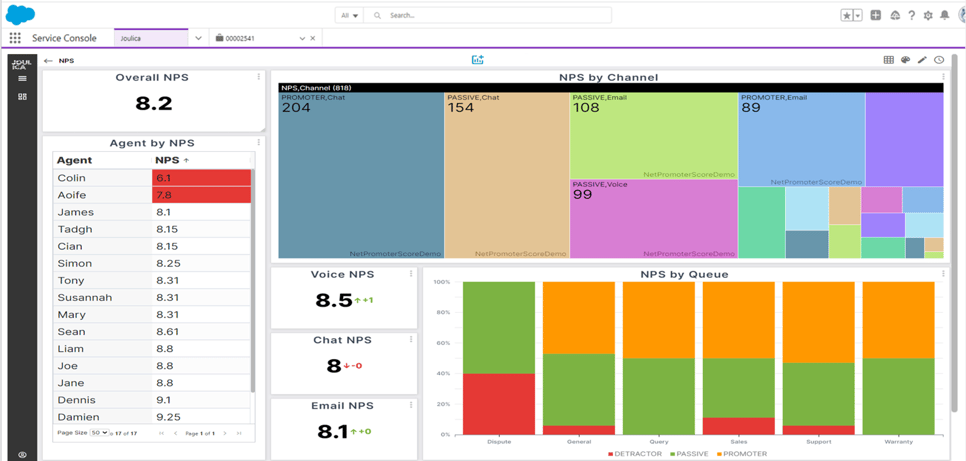 Summary
This article introduced Joulica's reporting and analytics that work across the full Salesforce Contact Center platform. We showed how our platform works across all Salesforce channels and provides the realtime visibility needed to drive increased customer satisfaction and contact center efficiencies. As always, to find out more, get in touch by email at info@joulica.io or contact us to arrange a demo and free trial.