Last week, we showcased some of the work we have been doing regarding using Quicksight to visualise realtime analytics (see Realtime Analytics with Amazon Quicksight – An Amazon Connect Use Case). To illustrate the power of this capability, we used Amazon Connect as a use case – and showed how realtime and historical Contact Center analytics can be completely unified within Quicksight. As promised, we are detailing another use case this week – this time based on the Internet of Things.
Recap: Quicksight and Realtime Analytics
Amazon Quicksight is a cloud-native, serverless, Business Intelligence service from AWS. At Joulica, we have extended Quicksight to allow streaming analytics to be visualised directly within the Quicksight tool – right alongside all the powerful analytics that it provides natively. The Quicksight Gallery provides lots of cool use cases, with the IoT example from Belle Fleur Technologies a great example from the IoT domain (and with very nice styling!). We thought this was a good example to extend with some realtime data.
IoT Use Case
For reference, the solution architecture is similar to that depicted in Detect water leaks in near real time using AWS IoT where device data is streamed by AWS IoT services onto Amazon Kinesis. In the architecture detailed above, the data is stored in S3 – which make it available to Quicksight. In addition, Joulica can consume the data from the Kinesis stream, and as new data becomes available, updates are pushed automatically to the Joulica web components within Quicksight. The result is shown below (for reference, the Joulica components are on the right!).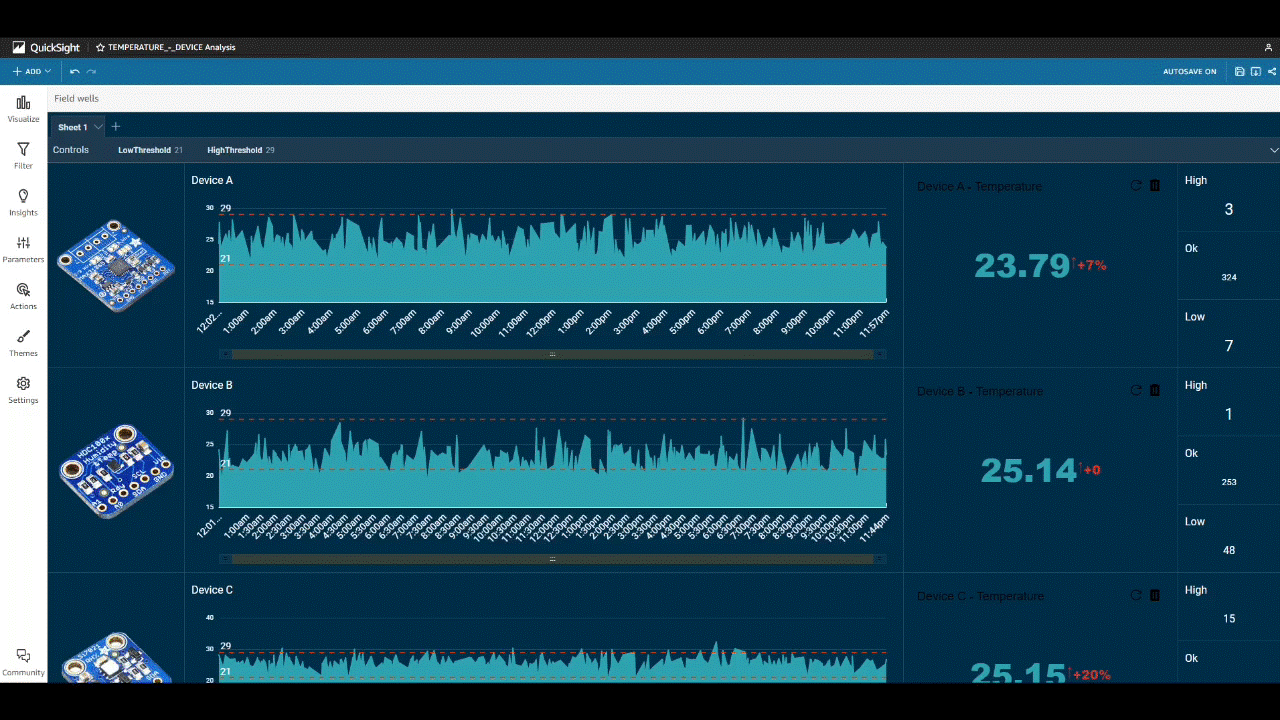 As can be seen, Quicksight users have access to the latest, live, IoT data, alongside the historical trends that Quicksight takes care of. We used the simplest Joulica visualisation elements to display the live temperature readings, but many more are available, and the user can lay these out according to their own preferences.
Summary
Here we showed another example where it is possible to bridge the gap between realtime streaming analytics and mainstream business intelligence, and provide users with a single unified analytics environment: Quicksight. We focussed on IoT this week, with last weeks post detailing a CX example. Of course, many use cases combine these, given the rise of connected products, and the importance of utilising data from these products in delivering proactive customer care. And of course, there is no shortage of other streaming data sources! We will continue to expand on this theme in future posts. As always, to find out more, get in touch by email at info@joulica.io or contact us to arrange a demo and free trial.