Introduction
Salesforce and Amazon are now utilised by leading organisations to deliver innovative, omnichannel customer care services. Customers can now engage with organisations over their channel of choice and benefit from efficient, contextual, and personalised services. They can self-serve or interact with a customer care representative, with the transition from automated to assisted services orchestrated in a seamless fashion. With this new, elevated, level of customer engagement, organisations want to optimise the following key areas.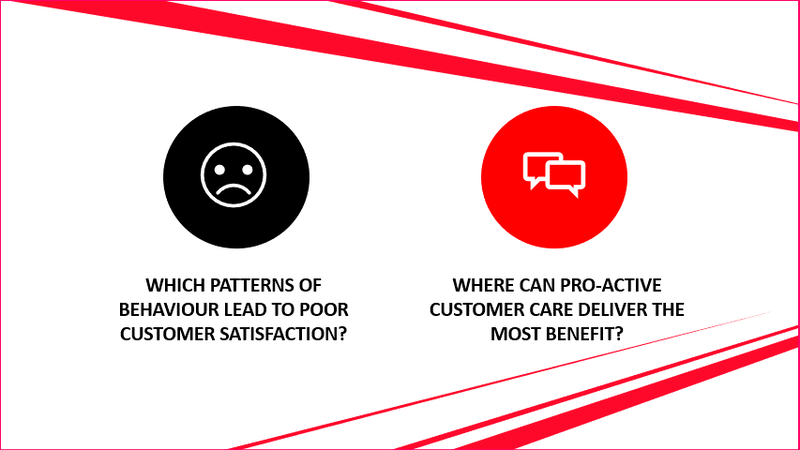 In this series of articles, we will explore these areas (and probably take some detours along the way!). The approach we will take will be based on the following approach: -
How can complex, multi-faceted customer and interaction data be analysed along with other data sources to deliver insights?

How can these insights be used to predict future behaviours?

How can the results be actioned to better serve customers and improve business outcomes?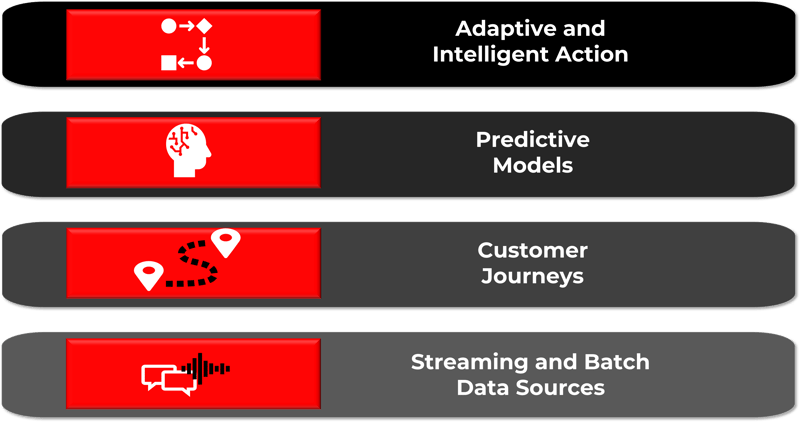 At Joulica, we are huge believers in the ability of real-time analytics to enable an adaptive approach to customer experience optimisation. Throughout these articles, we will be dealing with the problem of turning live, streaming data (and batch-oriented approaches where necessary) into actionable insights on a continuous basis. In addition, we are emphasising the use of customer journey analytics to improve customer service outcomes since we feel this has been neglected when compared to other customer journey use cases. However, there will also be ample examples of sales and marketing use cases – e.g., those aimed at improving customer retention.
This first article sets out to introduce the topic, with the next few articles breaking down the layered approach itemised above. Organisations can derive value from utilising one or more of the above capabilities and can choose to utilise the Joulica platform to complement existing technology investments: whether the existing technology is developed in-house or supplied by a technology provider.
Financial Services Use Case
For the purposes of this article, we will discuss a financial services organisation that offers a rich set of mobile and web applications to its global customer base. This Financial Services organisation serves its customers with a globally distributed contact center that offers both automated (e.g., IVR, natural language voice assistants and chatbots) and assisted services (including chat and voice). In the example here, Salesforce Service Cloud powers the digital channels (e.g., email, chat, social) and Amazon Connect provides rich voice-powered services, including Lex and intelligent agent routing capabilities. The web and mobile applications are in-house developed applications and are owned by two independent internal technology teams.

The diagram below depicts the solution architecture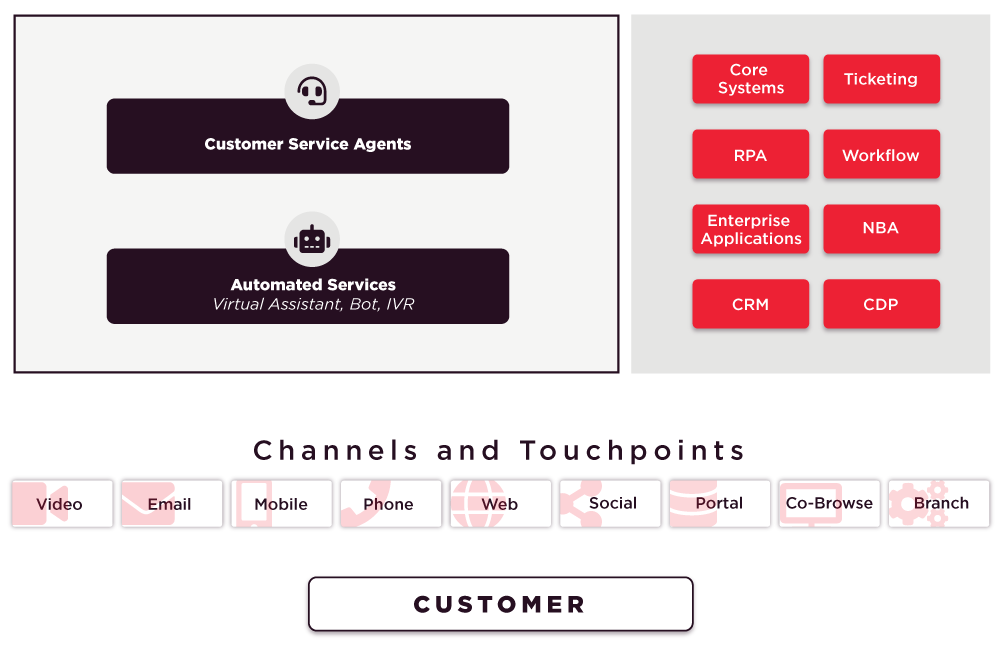 Offering exceptional service to their customers is not only a priority for this organisation, it is a central pillar of their corporate strategy in the hyper-competitive market they operate in. Delivering these services with high efficiency is also key, to ensure that investments deliver maximum value to both the organisation and their customer base. The internal stakeholders have the following questions.
How are customers fulfilling their needs across channels and how can they drive efficiencies, both from the customer's perspective and for the organisation?

What patterns of customer behaviour result in the highest level of retention, and how can they utilise this knowledge to improve the customer's experience and increase customer loyalty?

Which digital services need to be improved to avoid customers having to resort unnecessarily to other channels, and also leading to a higher cost to serve?
They also recognise that answering these questions will require analysing data from the following applications and elements
Web infrastructure

Mobile application (e.g., see

Customer Journey Event (jpmorgan.com

)

Amazon Connect

Salesforce Service Cloud

Multiple internal Enterprise Applications (e.g., customer and product-related data)

Customer Survey Applications

Speech and Text data from customer interactions
They want to avoid the end-result leading to a "rearview mirror" based solution, which yields just "reports" versus the continuous adaptation they know will be delivered through the appropriate use of real-time analytics. Their goal is to implement an approach based on continuous intelligence (e.g. see Definition of Continuous Intelligence).
Journey Insights
When the Joulica platform is utilised, out-of-the-box integrations with Amazon and Salesforce deliver immediate value, and technologies such as Kafka, Kinesis and REST deliver rapid integrations with in-house and other enterprise applications. A low-code approach is used to transform the raw data ingested by the platform into streaming analytical insights related to the customer journeys that are occurring across all channels. These are measured by the customer's intended goal, or the desired business outcome (or both). For example, which journeys lead to the highest percentage of promoters for the organisation, or the fastest and most satisfactory resolution for the customer. Utilising Amazon Connect and Salesforce, these journey analytics also encompass rich text and speech analytics, allowing key metrics such as first call resolution and sentiment to be analysed against the customer's journey, and broken down by call drivers derived from the live conversation. When interaction data is correlated across the entire timeframe of the relationship with the customer, analytics related to business KPIs such as retention and loyalty become available.
AI-Based Analytics
The next step is to derive insights that can be used to orchestrate current and future customer engagements. At any given time, millions of customers are engaged in one or several customer journeys (e.g., applying for a new mortgage, assessing investment plans, or applying for a credit card). Therefore, the predictive power of the customer journey analytics developed in the previous step can be used to deliver AI-based scoring for existing customers. For example:
How likely is a customer to retain an existing product subscription?
How can this specific customer interaction be handled - does the customer prefer a self-service or agent-assisted experience?
How can the agent assist the customer more efficiently?
How can it be more personalised?
What is the customer's preferred channel to fulfill this particular need?
What is the customer journey that will lead to the best customer experience?
Given the multitude of individual journeys that take place over more than a dozen channels (often over multiple simultaneously), with different customer profiles across distributed geographies, inflexible rules-based systems are very limited in offering an effective solution here. However, using modern AI services such as Amazon Sagemaker, Joulica can close the loop between real-time customer journeys and predictive analytics related to multiple business goals such as customer retention, customer satisfaction, or the best channel to serve.
Now, the organisation has data insights, drawn from customers behaviour over time, that can inform and power future interactions. These insights are refined during every engagement and hence can be used to intelligently choreograph individual journeys over each channel. For example, a previously loyal customer who incorrectly had a critical transaction blocked, which led to an emotionally charged conversation with customer services, can receive the personalised follow-up needed to rebuild the customer's trust. Analogous to optimising queuing service-level, journey analytics can now be used to optimise other KPIs such as retention, CSAT and NPS.
Actioning the Results
With the above two elements in place, the solution is now depicted below.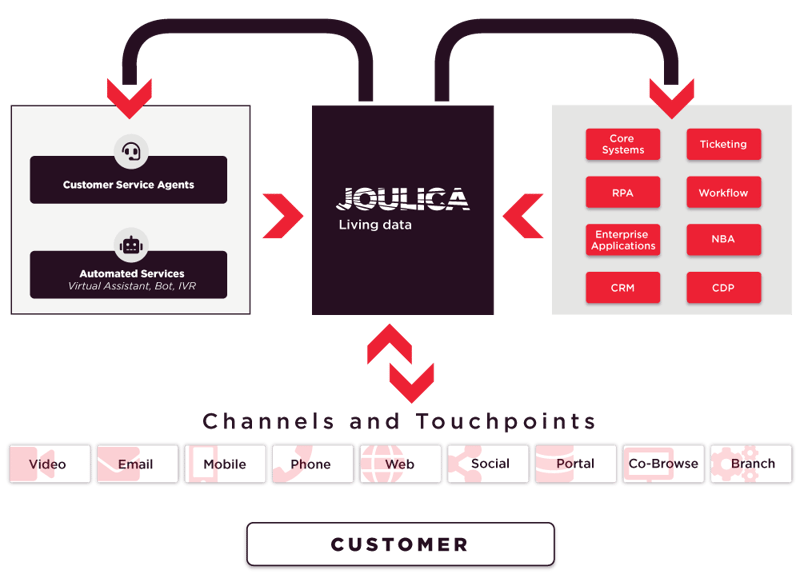 Each key element of the solution can now take part in a rich choreography that is informed by the full journey and can adapt to ongoing customer interactions using live actionable analytics. Some examples help to illustrate this.
In the first example, a very large percentage of customers make a call to the contact center to update their online profile information within a week of speaking with a sales advisor. Journey analytics reveal this through their ability to predict the intent of the next call. Now, sales advisors pro-actively work with new customers on the initial call to also deal with common follow-up requests, avoiding the need for an expensive and unnecessary second call from the customer.
Another example involves a high volume of agent-assisted calls at a specific time each month, that are related to a specific intent. Journey analytics allow the customers intent to be predicted and a personalised self-service session to be offered to the customer, allowing the customer to self-serve. For those customers who opt to speak to an agent, providing the agent with the additional context allows them to meet the customers needs as efficiently as possible. Taking it one step further, the organisation can pro-actively reach out to the customer within the mobile app, at the right time each month. and allow the customer to complete the transaction digitally.
Finally, both IVR and Virtual assistant platforms can pro-actively move customers to assisted services based on Journey analytics that show a strong correlation between the customer profile and improved CSAT when they engage with an agent at this stage in their journey.
Summary
This article serves as an introduction to how Joulica complements the customer journeys already being delivered by Salesforce and Amazon Connect. In the next series of articles, we will dive deeper into the individual elements of the approach, from realtime analytics to predictive analytics and finally to driving action across the full solution. Stay tuned and for more information, contact us at Joulica.io.