Overview
One of the coolest integrations we have completed in the last while is with Contact Lens for Amazon Connect. Contact Lens provides ML-powered automated call categorisation and sentiment analysis, amongst a whole raft of other powerful realtime analytics features.
We wanted to complement these capabilities in the same way as we do with our other Amazon Connect integrations. We focused on the following areas: -
Call Driver Analysis
Agent Performance Analysis
Correlation with Amazon Lex
Agent Adherence and Compliance
We looked at both realtime and historical analytics to ensure that we provided actionable insights not only from on instantaneous and intra-day perspective, but also from a historical perspective – ensuring all stakeholders across the customer service organisation benefit from the value we provide. This article introduces each of the above areas in turn – for more information just visit us at jouica.io where we can arrange a demo.
Call Driver Analytics
A common use of Contact Lens is the categorisation of customer calls using its AI capabilities. For example, is the customer calling to reset their password, make a purchase or organise a return ? Our base integration with Contact Lens allows contact center supervisors and managers to include this information on their realtime dashboards, along with the other KPIs they are managing. The dashboard below shows a simple example. It shows the top call drivers today and automatically updates as the day progresses.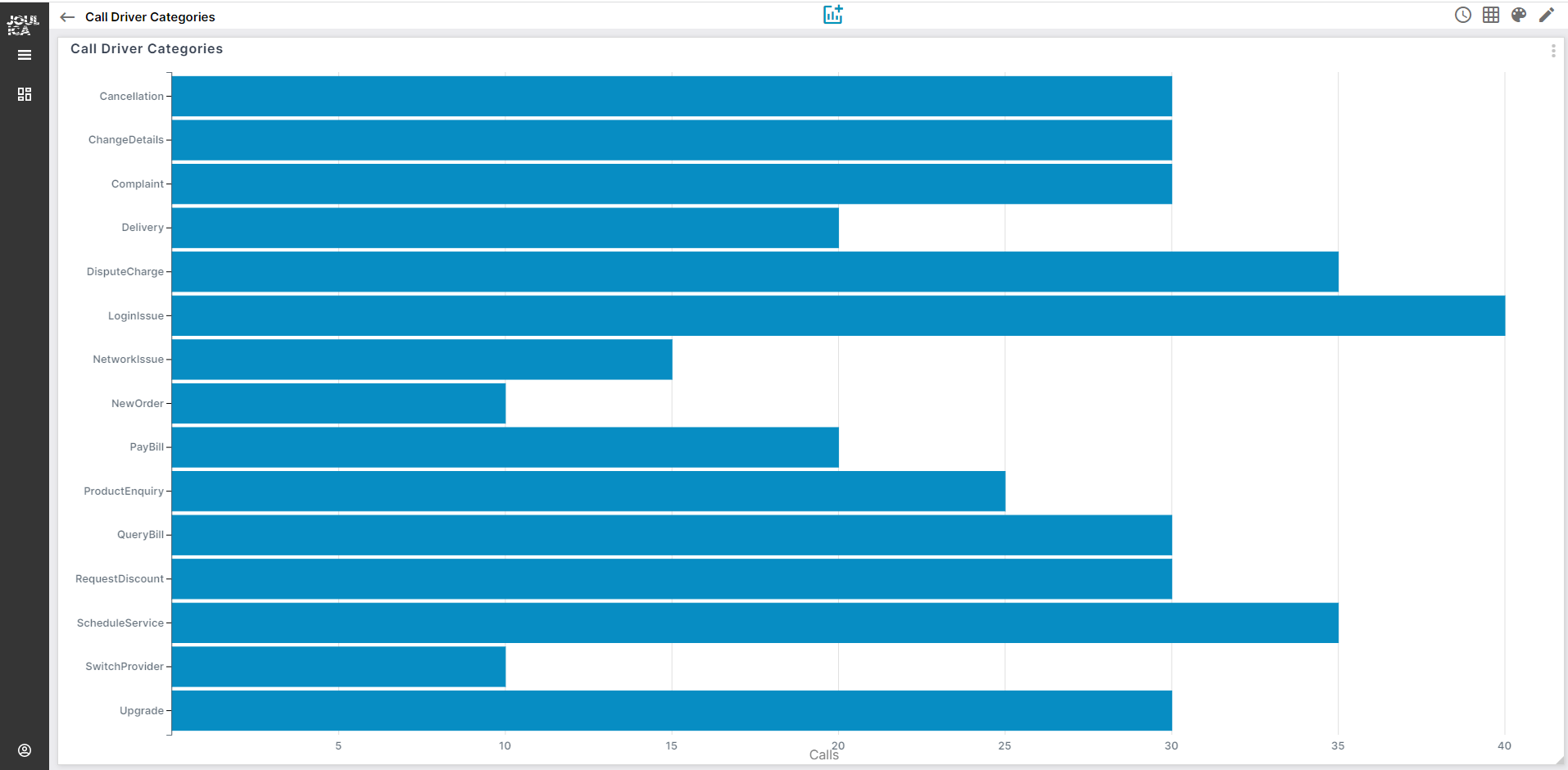 Agent Performance Analytics
We'll now drill into call drivers a bit deeper. Correlating the root cause for the customer call with agent performance is really important. For example, if certain agents or teams have excessive handling times for certain call drivers (Categories with Contact Lens) or are getting low customer feedback scores, then this represents a coaching opportunity. Call drivers that lead to long handling times and poor customer feedback for certain agents are certainly areas that need to be addressed immediately. The example below shows a sample realtime dashboard. Agent Tony is exceeding average handling time thresholds for a number of categories. He is also receiving poor customer feedback for some of them - using this information, supervisors can act in real-time and assist the agent.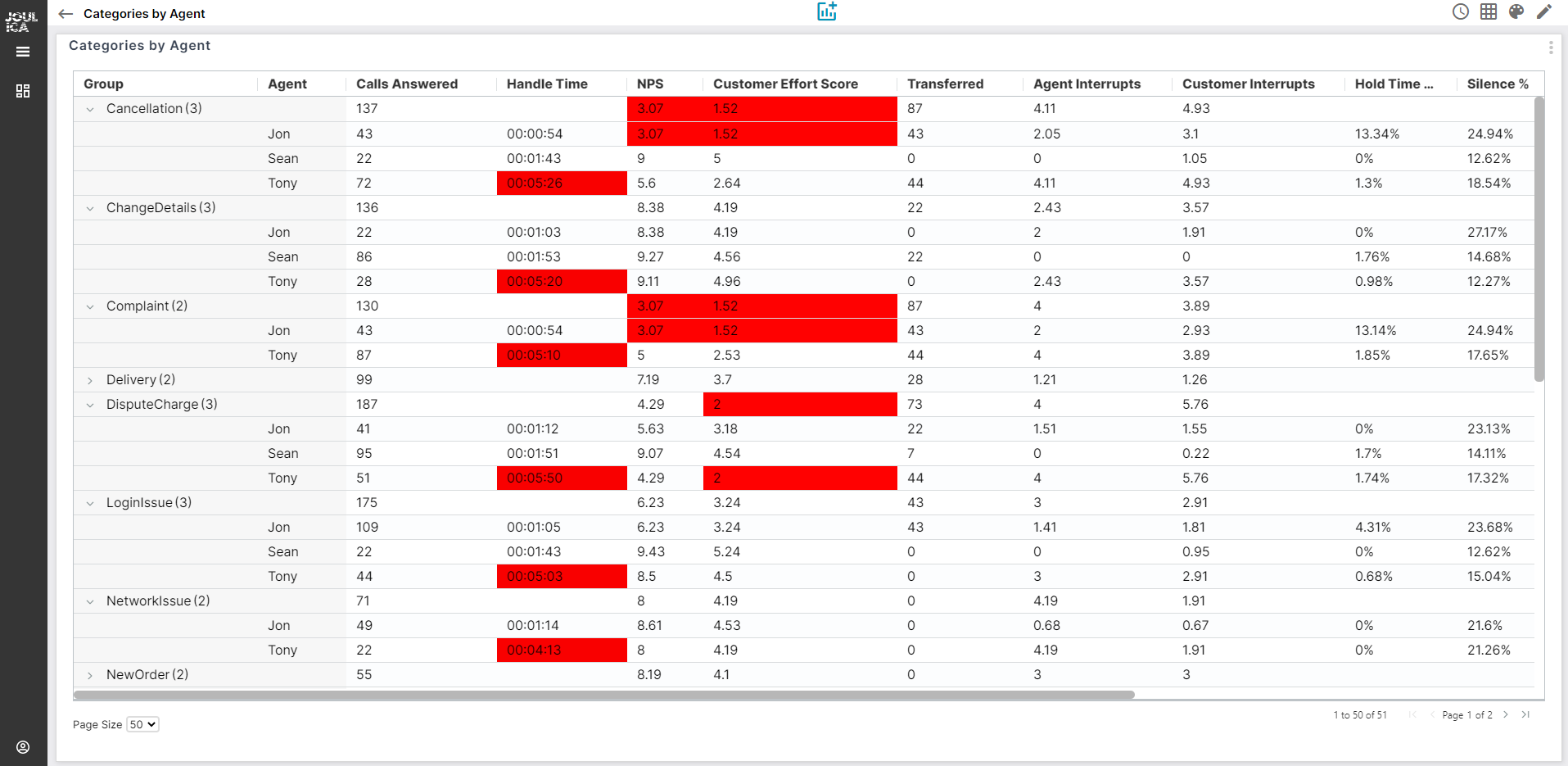 In addition to survey data, customer sentiment can also be correlated with other agent performance metrics, giving an automated assessment of the customers experience. Agent sentiment is also valuable here as it may indicate that training is required for certain types of call.
In addition to having this data available in realtime (e.g., enabling a supervisor to have a coaching session with an agent immediately after a difficult customer call), it is equally important to be able to analyse the data from a historical perspective, e.g., to detect deteriorating performance, anomalies, or other types of trends. All of the above analytics are made available by Joulica in Amazon RDS, and Amazon Quicksight can be used to produce dashboards in a matter of minutes.
Correlate with Lex to Optimise Routing
With Amazon Connect, organisations can utilise Amazon Lex to build rich, intelligent virtual assistants to allow customers to fulfil their intent without speaking to an agent. However, as we all know, agent assistance is still hugely important and the preferred option for a lot of use cases. A contextual transition between Amazon Lex and agent assisted services is a critical aspect in delivering a high customer experience.
The dashboard below shows the correlation of the conversation intent, as derived by Amazon Lex and the content of the agent conversation, as derived by Contact Lens. If these don't match, that's an obvious area to enhance your Amazon Lex implementation! In the dashboard, we've included the Queue that is being used to route the calls. If there is a mismatch between the actual call driver and this, then routing can be optimised. Call transfers by call driver is another useful metric in this area.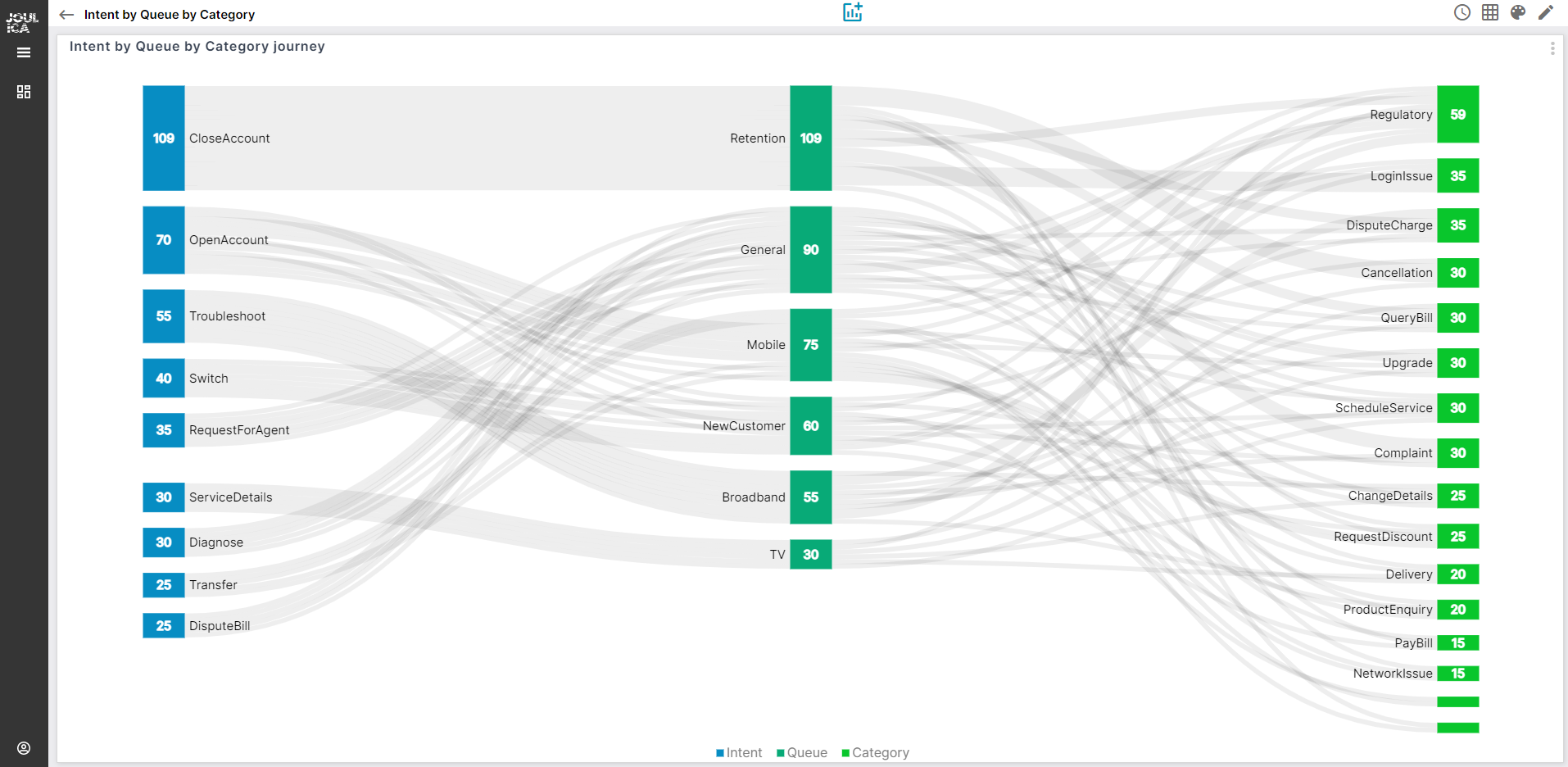 Agent Compliance
Contact Lens can also be used to define categories related to compliance with regulatory requirements and corporate standards. For example, how the agent should greet the customer or notify the customer about call recording policies. Joulica allows supervisors and managers to assess team and agent conformance against these policies in real-time and historically. The following dashboard includes analytics for a number of agents regarding their compliance with the Greeting and Regulatory Message categories (in the bottom right). This is averaged over the current shift and so supervisors have the information to act in real-time. This dashboard shows our ability to bring it all together and include insights together in a single pane of glass – ranging from call drivers, team performance and the average customer sentiment expressed for each call driver.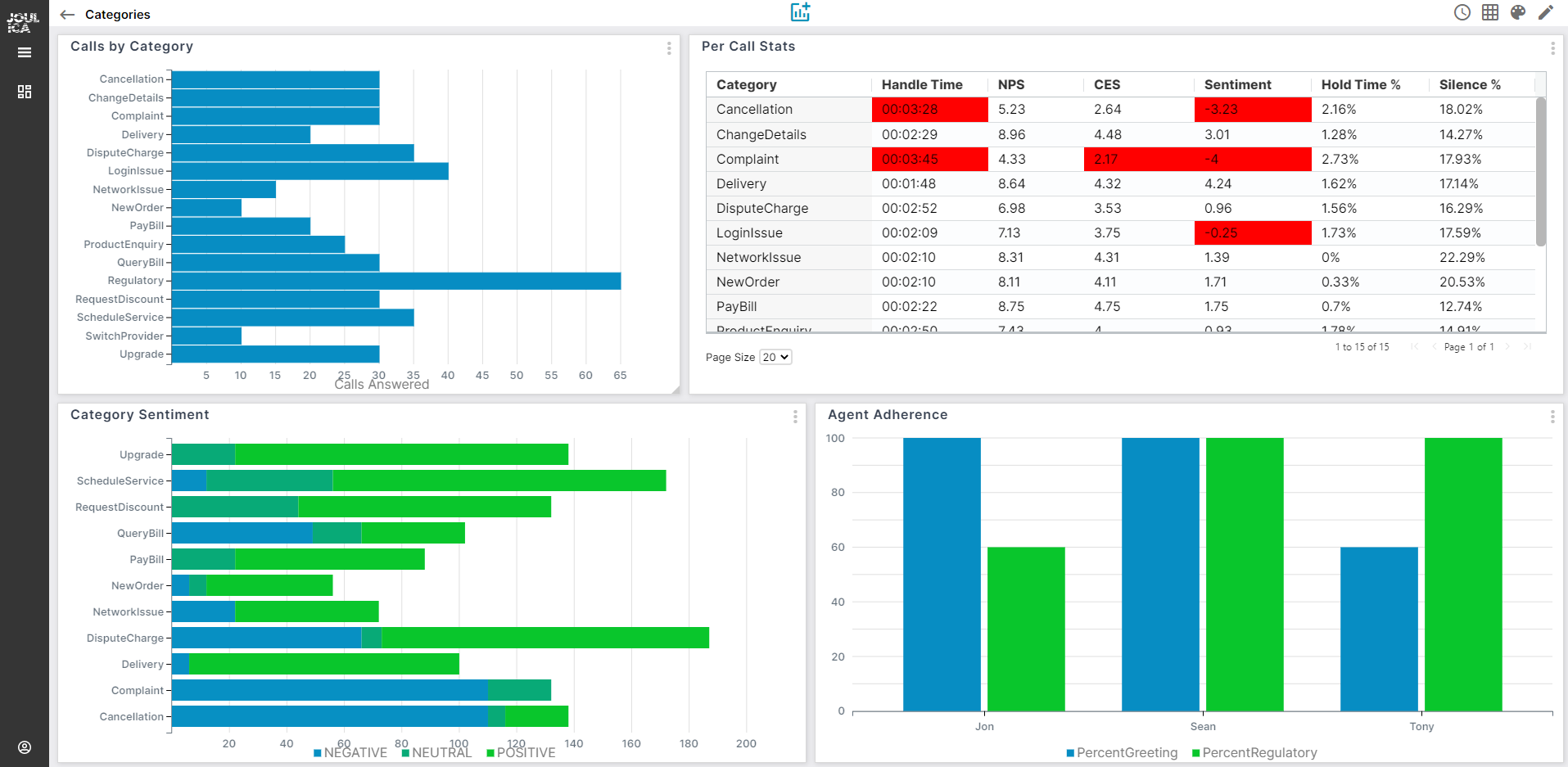 Historical Analysis with Quicksight
Joulica publishes all the analytics that it computes to Amazon RDS, enabling rapid and flexible business intelligence and historical analytical use cases. For example, to analyse how call drivers vary over time, as well as how customer sentiment on each of these call drivers is trending. Anomalies can be detected from easy-to-create Quicksight dashboards or detected automatically by Quicksight using its AI capabilities. Visual correlation between metrics such as CES or NPS and other Agent performance metrics can easily be done for extended time durations, and drill-down allows users to navigate from these summarised views all the way to the call recording and transcription for individual customer interactions.

Summary
As we have seen, Contact Lens and the Joulica platform is a powerful combination. The combined solution allows contact center professionals to dive much deeper than standard metrics and reports in order to truly understand the drivers of customer interactions and agent performance. Supervisors and managers are provided with both realtime and historical analytics to optimise Lex implementations and call routing, as well as agent adherence to corporate standards. To find out more, get in touch by email at info@joulica.io.